bezrealitky.cz
Real estate portal with more than 80 000 visits per day
About the project
Winner of the 2008 Křišťálová Lupa award. The largest real estate portal for direct sale of real estate with 2 million visits per month.
Integrating not only the direct mediation of sales, but also complementary services linked to the sale of real estate.
Responsiveness
Websites are no longer the sole domain of desktops and large screens.
The interface is designed for full control on both small mobile phone displays and in full large-screen resolution. User experience is guaranteed.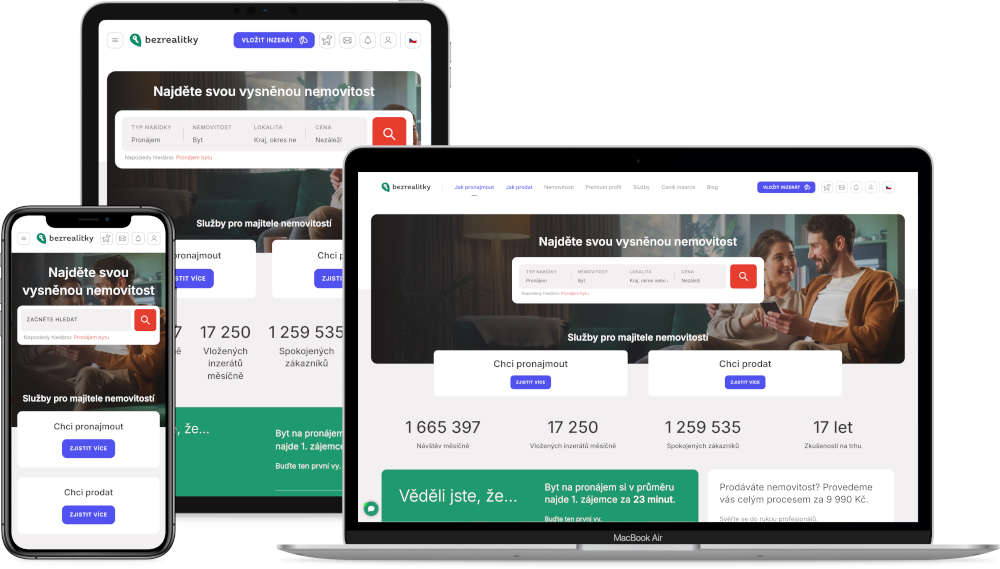 Payment and SMS gateway
A business model would not be complete without a comfortable payment option. Services can be paid for using the payment gateways of individual banks, a credit card, or premium SMS.
Payment processing takes place automatically for the service ordered while generating tax documents that serve as the basis for accounting.
Exports
The most valuable content we administer is data on real estate.
We guard this data with our lives. However, these offers are exported to other servers for direct sales to increase the chance of accomplishing the deal.
Google Analytics and SEO
Development of websites and user interface cannot exist without feedback and statistical data.
We use Google Analytics to collect and analyse this information. We help modify the processes and organisation of the site to make it as user-friendly as possible.
Results
The Bezrealitky.cz server is the most successful portal for the direct sale and rental of real estate. Thanks to its continuous development and improvement, it has a steadily growing base of satisfied customers.
Over 80 000 website visits per day
Over 5 000 000 views of ads per month
Over 3 500 new ads per month
Management and maintenance
We have a great sense of responsibility for the work we create, and simply launching a project doesn't mean our work is over. Long-term cooperation between the developers and the client is a prerequisite for overall success.
The whole project runs on server architecture that we prepare and operate. We are adding new features, solving technical issues and contributing our knowhow to the overall success of the entire portal.
Would you like to cooperate with us?
Your message has been successfully sent.

Thank you