Bezrealitky.cz
Real estate portal with more than 60,000 visitors a day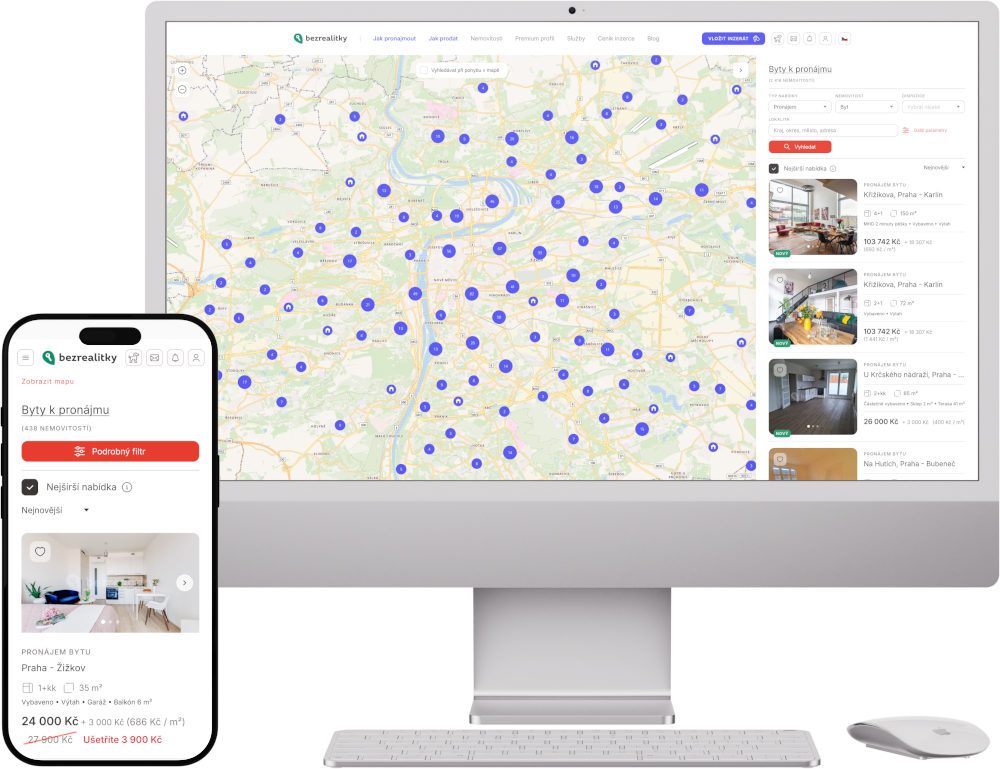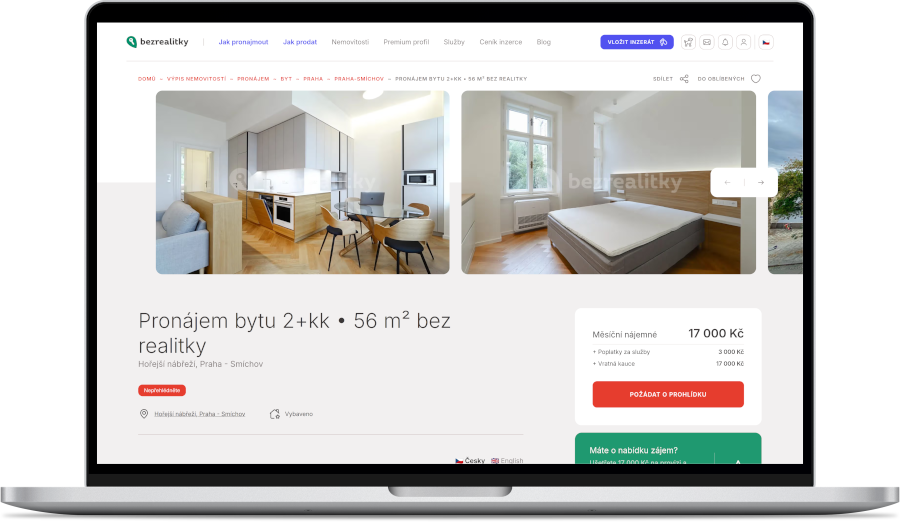 About the project
Winner of the 2008 Křišťálová lupa award and many others. The largest portal for direct real estate sales and rentals, with 2 million visits per month.
Bezrealitky.cz have developed into a complex portal offering help not only with the sale or rental of property but also many other related activities.
Responsiveness
Websites are no longer the domain of desktops and large displays.
The interface is designed for full control on a small smartphone screen as well as the full resolution of a large display. User experience guaranteed.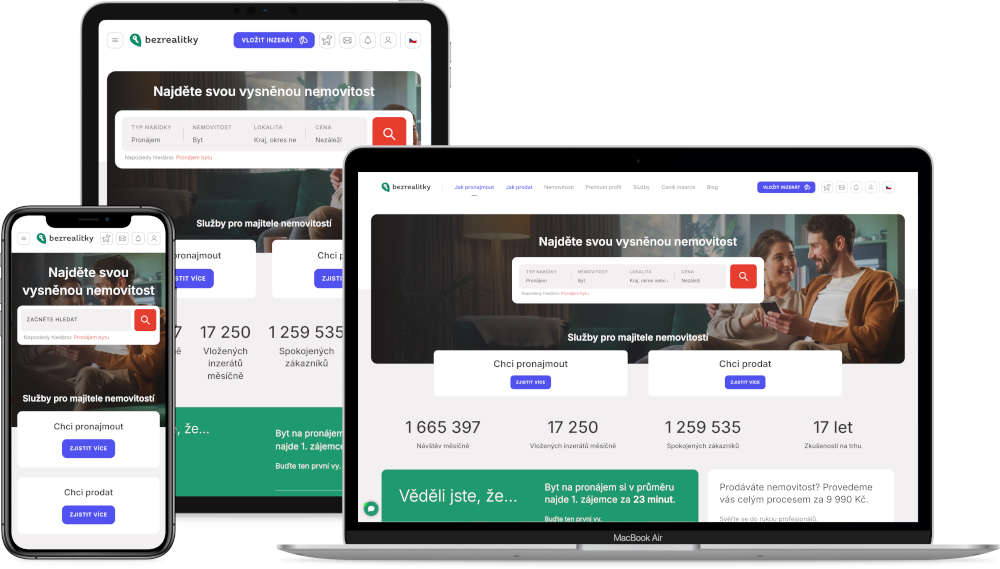 Payment and Text Message Gateway
A business model would not be complete without convenient payment options. You can make payments for services using the payment gateways of individual banks, cards, or Google and Apple Pay.
Payments are processed automatically, linked to the order, and the generated tax documents can be used in accounting.
Exports
The most valuable content we manage is real estate data.
We guard it like hawks. However, we also export the offers to other direct sales servers, increasing the chances of making a deal.
Analytics and SEO
Website and user interface design would not complete without feedback and statistical data. We use multiple tools to monitor the behavior of visitors on the bezrealitky.cz website and we use the insight in further development.
We also devote a lot of energy to content to make sure that it's correctly indexed by search engines and that it's possible to find it with regular Google, Seznam and similar searches.
Comprehensive Portal Administration
The administration of such a large, complex and successful portal requires a lot of daily tasks. We created a system for the administration of the entire portal, automating most of the process (sometimes using UI) and providing the admins with a good idea of how the portal is running, as well as numerous tool for easy administration.
International Portal
The bezrealitky.cz portal system was designed to be easy to localize into other languages; at the same time, we made it possible to offer different services in different languages, with prices in respective currencies.
The entire portal is available in English at bezrealitky.com and in Slovak at bezrealitky.sk.
Long-term Support
We took over the development of Bezrealitky in 2007, when it was a very simple website with very few features, only meant to check that the concept would work.
Since then, the development of the portal has been entirely up to us, and we are the technical partners helping with its growth and reliable operation.
The Results
Bezrealitky.cz is the most successful web portal for direct sales and rentals of real estate. Thanks to continuous development, broadening of services on offer, and improvement, it has a constantly growing base of satisfied customers.
The portal is also successfully expanding abroad. The Slovak version has already been launched and currently, it is being localized for further expansion into central Europe.
Over 60,000 users daily
Over 4,000,000 ad views monthly
Over 3,500 new ads every month
Administration and Maintenance
We feel responsible for the websites we create. For us, the work does not end with the launch of the project. If a project is to be successful, long-term cooperation between developer and the client is a must.
We have server architecture in place for administrating the project. We add new features, solve technical issues and share our experience to ensure the overall success of the portal.
Do you want to work with us?
Your message was sent successfully.

Thanks!
We're sorry, but the message could not be sent.

We will be happy if you let us know about this at info@id-sign.com