Eccevita.cz
Natural medicine and herbal mix e-shop Ecce Vita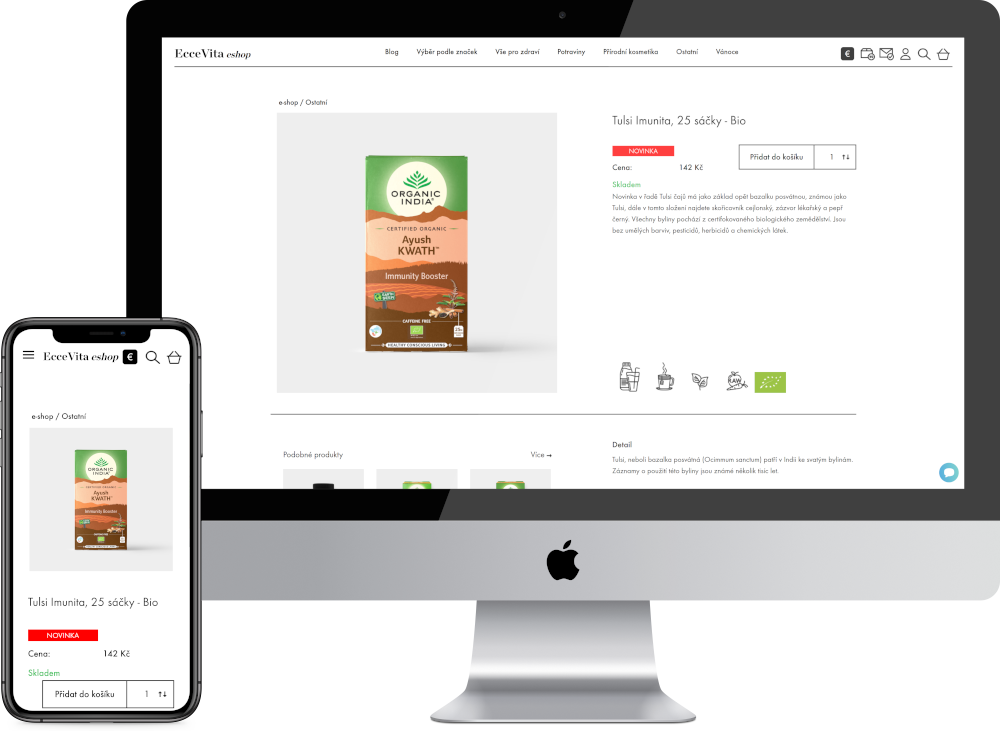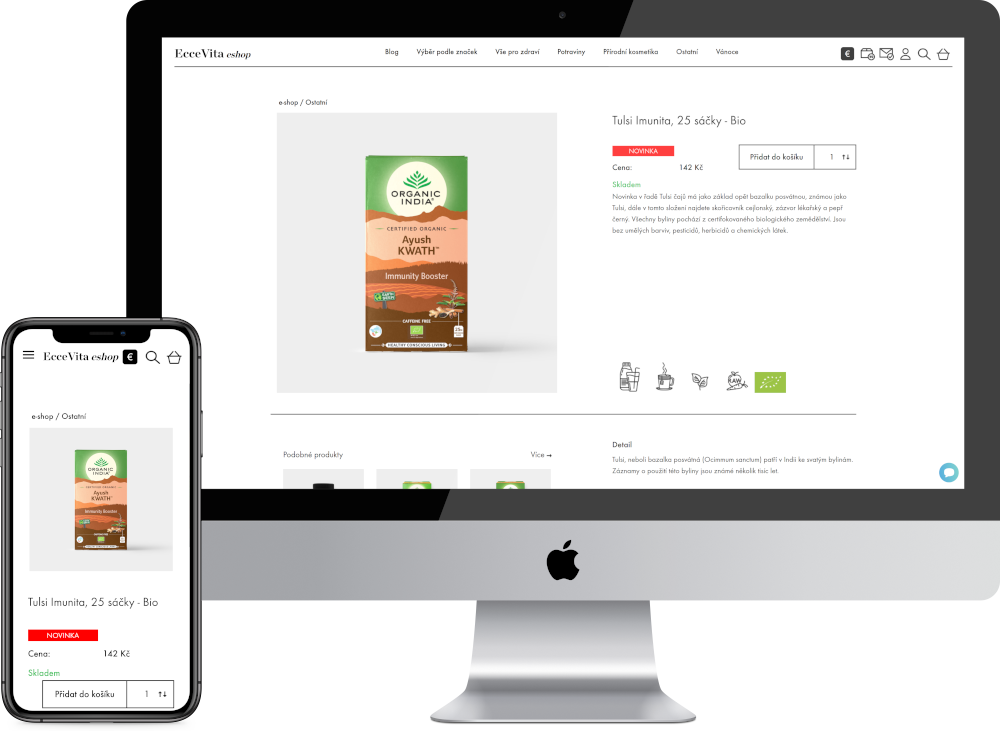 About the project
The Ecce Vita s.r.o. e-shop is an example of successful project takeover after the departure of a development team. The e-shop platform is built on technologies we are familiar with, so we were able to take over the project and very quickly start working on further development.
As part of the takeover, we audited the project and the code, set up automatic error monitoring as well as the entire development management process. Together with the client, we set up a task and idea workflow that suited all parties and minimized the potential for miscommunication.
Responsiveness
Websites are no longer the domain of desktops and large displays.
The interface is designed for full control on a small smartphone screen as well as the full resolution of a large display. User experience guaranteed.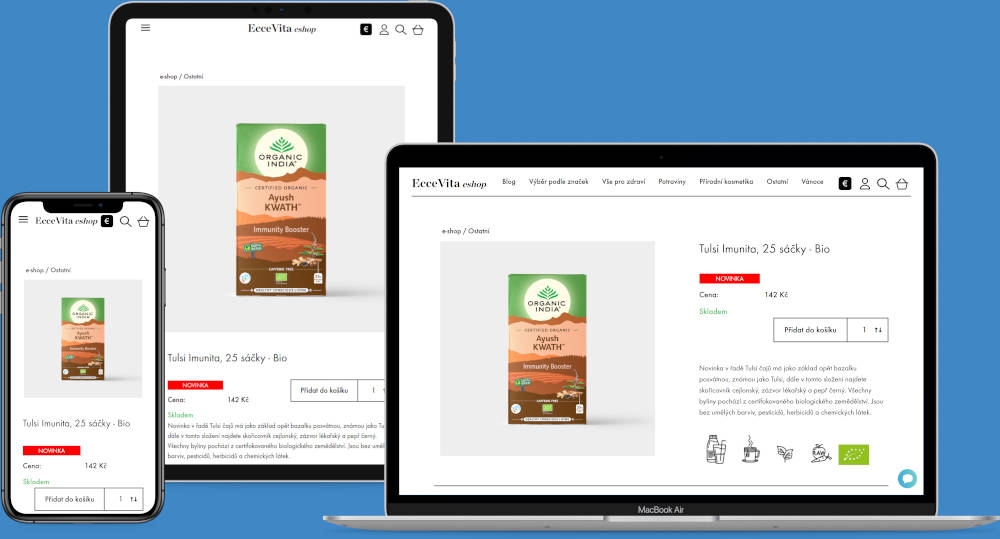 Taking Over Development
The eccevita.cz e-shop lost its development team mid-stream. When the client approached us, we were able to take over the whole development process very quickly, set up all processes and continue developing the project without the need to create a whole new e-shop on a new platform, which would have been expensive.
Connecting to External API
With e-shops, support for all online sales channels is crucial. Therefore, we gradually linked eccevita.cz with Heureka.cz, Mall.cz, Zbozi.cz, Google and Facebook Market. The administration of customer orders and payments is easy thanks to the connection to the client's accounting system.
Accounting and Invoicing System
We connected the e-shop to the ABRA FlexiBee accounting system for easy processing of orders, payments and tax document management. This way, order and payment administration and accounting for the entire project was made much easier.
Connected to the ČSOB Payment Gateway
Today, having an e-shop without convenient and fast ways to make payments is almost unthinkable. At eccevita.cz, you can make payments very easily thanks to the integration with a payment gateway by ČSOB.
International Support
Ecce Vita s.r.o. is also active abroad and its e-shop has been localized into Czech and English and ready to accept payments in different currencies. The system also offers shipping methods according to the country of destination.
Affiliate Program
Do you have a lifestyle websites, a blog, or do you practice natural medicine? Become an eccevita.cz partner and participate in its success.
It is very easy to join the program – there's no need for special skills, all you need to do is register.
The Results
After we took over its development, the eccevita.cz e-shop is successfully expanding and we keep adding new features. In addition to many other customizations, its visitors and partners can now make payments in different currencies, have products shipped to Slovakia, use the affiliate program and much more.
To facilitate smooth operation of a growing e-shop, we migrated it to a new infrastructure and made the necessary adjustments to make sure it runs reliably on the latest versions of the technologies used.
Over 120,000 visitors a month
The offer is exported to 5 shopping systems
Administration and Maintenance
We feel responsible for the websites we create. For us, the work does not end with the launch of the project. If a project is to be successful, long-term cooperation between developer and the client is a must.
Since its launch, the website has been undergoing significant continuous development. We add new features, improve the user interface and monitor user behavior. This way, we help increase the site's success and user satisfaction.
Do you want to work with us?
Your message was sent successfully.

Thanks!
We're sorry, but the message could not be sent.

We will be happy if you let us know about this at info@id-sign.com